Hello, everyone! Here is an update on what I have been up to:
I finished my newest audiobook,
Vampire Classmates
by R. Barri Flowers, a prequel short story to his best-selling Transylvanica High Series. This book was a lot of fun to do, there were so many interesting characters and developments that add new dimensions to this Young Adult paranormal series.
It is now for sale on
Audible
,
Amazon
, and
iTunes.
A special bonus to this particular audiobook: it includes excerpts from three of Barri's best-selling novels,
Count Dracula's Teenage Daughter
(the first in the Transylvanica High series),
Teen Ghost at Dead Lake
(a YA haunted house mystery novel), and
Danger in Time
(a YA time-travel mystery novel.) These were a lot of fun to narrate as well; I would definitely recommend buying the full book (or audiobook!) of all three of these novels.
I also have made a trailer for the
Vampire Classmates
audiobook:
Watch the Trailer!
This was a lot of fun to make! There is a part in
Count Dracula's Teenage Daughter
where one of the vampires has bottled blood in the cafeteria, so I really wanted to have that in the trailer to showcase the difference between the humans' and vampires' lunch choices.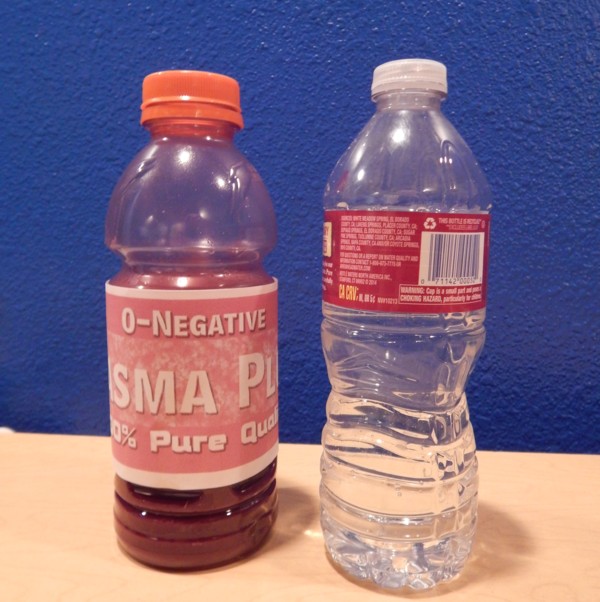 I made fake blood and a label for the bottle:

The blood was a hard thing for me to do, since I am so squeamish it is not even funny. I knew that it was just corn syrup, chocolate sauce, coffee, red food coloring, cocoa powder, etc, but it made me feel faint.
It kept not looking right, but then suddenly I felt a sick light-headed feeling, and I knew I'd gotten it right.
Grossest part of all? Thanks to the brewed coffee...
it was warm.
Ewwwwwwwwwwwwwwwwwwwwwww.
But it had the desired look and effect for my video, so I am proud of myself.
Now go watch the video, and make sure to buy a copy of
Vampire Classmates
!