HAPPY HALLOWEEN! | October 31, 2014 | 5:34 PM
Well, it's Halloween. I am both happy and sad. My fave holiday is almost over! But as I wait for Trick-Or-Treaters, I thought I would share some last ideas with you.





This movie tells the story of first year Mildred Hubble, who feels that her constant blunders will get her kicked out of the prestigious witch academy. Mildred and her best friend Maude are always getting into harmless scrapes, but it isn't until Ethel Hallow, one of their snobby classmates, turns her wrath on poor Mildred that things get serious. In the meantime, an evil group of witches plot to take over the academy! Can Mildred find the magic inside her and prove to everyone that she isn't the worst witch in the school?

This movie is adorable. Mildred and Maude are such good friends, and I love all of the teachers at the school. Ms. Hardbroom reminds me a bit of Professor Snape from Harry Potter, cranky but loveable, Miss Spellbinder is so sweet, and I adore Miss Cackle, the Headmistress. Charlotte Rae plays Miss Cackle, and she is so adorable and bumbling as her, and then so nasty and hilarious with her pink hair playing Miss Cackle's evil twin, Aggie. I also love love love Mildred's kitten, Tabby, because she looks like my kitten, Arabella! This is definitely a Halloween favorite for me.





Watch the game trailer!

You, playing as Nancy Drew, are invited to a beautiful old Bavarian castle in Germany, to investigate some pretty strange occurrences. For legend has it that a monster roams the grounds, and will sometimes appear and make off with a young woman. The monster hasn't been seen for years...until now. As you investigate the castle's dark history and German legends, you begin to suspect that you yourself just may be the monster's next victim!

This game was really fun. The monster bears resemblance to Frankenstein's monster, and the castle has some very spooky parts (including the catacombs!) The legend of the monster was really cool, and the mini games were a lot of fun. I recommend this one for those who love German folklore, monsters, and castles!





The Poppet and the Lune tells the story of a girl made of patchwork–from the pieces of the deceased children of the village–who embarks on a journey through the dark and mysterious Everwood Forest to find her destiny. Along the way she meets Faolin, a young man who has the blood of the Weremen in his veins. The two meet sorcerers, princes, mermaids, and all sorts of enchanted beings along their journey. Can they help each other achieve their goal? Find out in the original fairytale written by Madeline Claire Franklin.

I love this book, (which is why I auditioned to narrate the audiobook!) and it is a perfect book for Halloween, because it has some spooky aspects and magical creatures. I dearly love the patchwork girl and Faolin, and several of the other characters that they meet along the way. It is also perfect that I am recommending this book today, on All Hallows' Eve, because it is the patchwork girl's "birthday"–the day the witch finished (well, almost finished) making her! I highly recommend giving this book (or the audiobook!) A try, and I swear that's not a shameless plug!






I got a couple of ideas from this years "Taste of Home Holiday (Halloween)" Magazine.

Ingredients:

1 box Pillsbury Funfetti Halloween cake mix
1 can chocolate frosting
1 can vanilla frosting
Candy eyes
Reeses peanut butter cups
Candy corn
Chow Mein noodles
1 tube of Betty Crockers's green icing
1 box Monster's Inc. Gummy eyes

I made 18 cupcakes, and frosted 6 of them with chocolate frosting. Then I put candy eyes and chow mein noodles on them and voila! Spiders!





I frosted six of them with vanilla frosting tinted green, and decorated them with a tube of Betty Crockers's green icing, and Monster's Inc. Gummy eyes. Ta-da! Cyclopes!





And the last six I frosted with vanilla frosting tinted blue, and cut Reeses peanut butter cups in half for the wings, used candy eyes for the eyes and sprinkles for the mouths. Then I chopped candy corn into pieces (the pointy white for the teeth and the yellow pieces for the ears.) Check it out! Cutie bats!






Have a happy (and safe!) Halloween, everyone!

Moonlight and Magic | October 30, 2014 | 9:37 PM

With just one more day until Halloween, (*cries*) here are a couple more recommendations for everyone!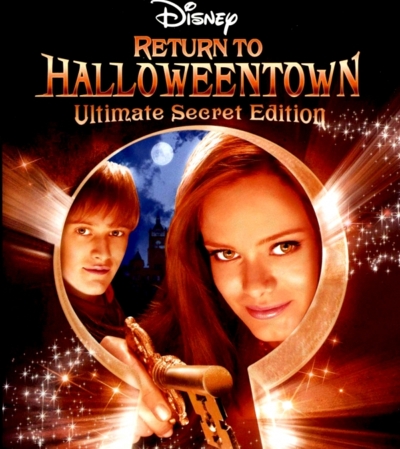 In the fourth (and sadly, final) installment of the Halloweentown movie series, Marnie is about to start college! Rather than staying in the mortal world, Marnie goes against her mother's wishes and attends Halloweentown's own Witch University. Marnie is so excited to be attending college in a mystical dimension, where she will be able to come into her own with her powers. Little does she know, however, that there is a group of evil witches and warlocks who are plotting against all of Halloweentown, and want to use Marnie's powers to achieve their goal. Marnie will have to question whom she can trust as the stakes get higher and Witch University unveils more and more secrets.

I do enjoy this movie, but it is very different from the other three. The biggest and most obvious change is that Sara Paxton takes on the role of Marnie Piper (I think that Kimberly J. Brown was too busy with the Soap Opera she was on at the time.) She did an awesome job, though, and I really liked her playing Marnie. (They even gave her green colored contacts!) Another big difference is that Debbie Reynolds has very little screen time. The fact that Marnie cannot contact her grandmother for the majority of the movie is actually very important for the plot, but it makes me sad because Grandma Aggie is my favorite part about these movies. However, there are many other cool things about this movie, like Marnie's new genie friend Aneesa, the beautiful castle that is Witch University, and the adorable and bumbling Professor Periwinkle. If you love these movies, I think this one is worth watching.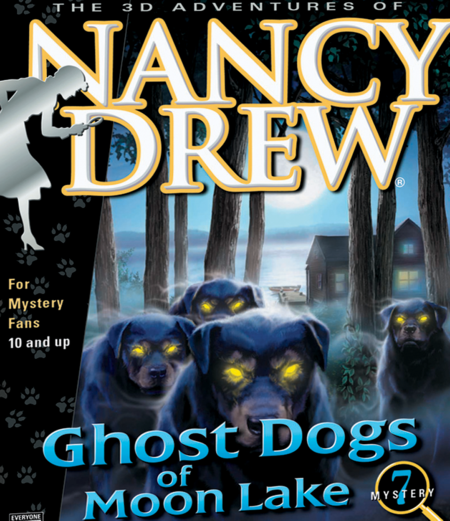 Watch the game trailer!

In this chilling adventure, you, as Nancy Drew, think you are about to enjoy a relaxing vacation at a lakeside cabin. You find out that you are sadly mistaken however, when you are awoken in the middle of the night to a pack of ghost hounds attacking your cabin from all sides. After questioning the locals, you learn that the cabin was once owned by a gangster, and the ghosts of his loyal dogs haunt the island, protecting a dark secret.

This was the third Nancy Drew game I played, and it is awesome. The ghost dogs are so scary, and the funny thing is, since they are a bunch of black labs, they looked like my dogs, so I didn't think they would scare me, haha. The puzzles are fun, and the island is full of challenges, including a cemetery and mazes.

Haunted Mansion and Halloweentown | October 27, 2014 | 7:57 PM

Hello, all!

It has been very stormy here, with pouring rain and howling wind, so it's not exactly outdoor, taking a stroll in the park weather. But don't worry, here are some things to keep you occupied while indoors!




Watch the game trailer!

In the third installment in the Nancy Drew PC games, you, as Nancy Drew, are invited to a beautiful old house in San Francisco. Thinking you are only there to help your friend Rose fix up the place to turn into a bed and breakfast, you soon learn different as a series of accidents occur. Could it be someone who doesn't want Rose's plans for the house to succeed? Or are vengeful ghosts at work? Find out in this chilling and thrilling mystery!

This is the second Nancy Drew game I ever played. I actually started playing these games way back when they first came out, and this one is still one of my favorites. It features beautiful graphics, awesome puzzles, and a creepy mystery. I could not play this game at night alone. Heck, I still can't. One word: Haun-ted. Love a mystery? Love puzzles? Love ghosts? Try your hand at this game!






In the third movie of the Halloweentown series, Marnie is about to begin her senior year of high school, and she has a special project in mind: to bring a group of students from Halloweentown to her high school to show them the mortal world. But all is not what it seems, and there may be forces--both from the mortal world and Halloweentown--who want this program to fail, and the portal that the Cromwells created linking the two worlds to close forever.

I love all four of the Halloweentown movies, but this one is tied I think with Kalabar's Revenge as my favorite. I love all the kids who come from Halloweentown, how Gwen is embracing her magic more freely, and the overall mystery of this movie. I really like the character of Cody, Marnie's love interest, and I like that Aggie gets a love interest, too. It's also different in that instead of arguing with Gwen in this movie, Marnie actually argues with Aggie. It gives the movie some different dynamics, which mixes it up a little and makes it less predictable. If you love magic, you'll love this movie.


Brownies and Witches | October 23, 2014 | 10:51 PM

Bundled in a Halloween sweater and clutching a mug of hot chocolate, I am taking a break from some audio edits as I write this blog post.




Continuing with the Halloweentown movie series, I would like to talk about Halloweentown II: Kalabar's Revenge.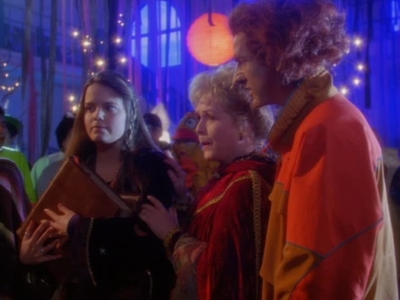 Picking up two years after the end of the first Halloweentown, this movie starts off with the Pipers throwing–shockingly enough– a Halloween party! While Gwen protests at the over-the-top festivities and begins yet another argument with Marnie, who should show up to distract both mother and daughter but two handsome men–a father and a son. But everything is not what it seems when Marnie gives the mysterious stranger a grand tour of the house–including a secret trip to her grandmother's room, and Aggie's magical carpet bag suddenly stops working. When Marnie and her grandmother return to Halloweentown to investigate, they find that their beloved dimension has fallen under a terrible spell...and they only have until midnight to reverse it.

I think, if I had to choose, this one is my favorite of the movie series. I love that Luke has a big role in this movie and is helping Marnie throughout, I adore the hilarious ogre Gort, and the villain is really cool (and also kind of a hottie, haha.) Sophie, Gwen, and Dylan have their own great moments, too. I highly recommend this one!



For a quick and easy Halloween treat, why not try these adorable Halloween brownies?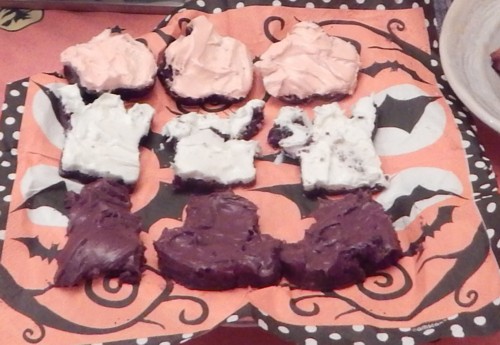 You will need:

Fudge brownie mix (I used Betty Crocker)
Chocolate frosting and vanilla frosting (ditto)
A jelly roll pan
Cat, pumpkin, and ghost cookie cutters
Food coloring

Directions:
I followed the directions on the box and then baked them in a jelly roll pan instead of a cake pan so they would be a bit thinner and therefore easier to cut. Once cooled, I divided the vanilla can of frosting and left some white, and tinted some orange. (You may have leftover of both the vanilla and chocolate frosting–maybe make some of the sugar cookies!) Then I frosted the pan one third chocolate, one third white and one third orange and cut them out with the corresponding cookie cutters and voila! A spooky cute treat!



Movies and Treats | October 17, 2014 | 10:38 PM

Hello, everyone! Tonight I feel in an especially delightful mood. I am sitting in front of my window listening to the torrent of raindrops outside, smelling the fresh rain mixed with pumpkin and fireplace smoke, sipping a cup of hot chocolate (topped with whipped cream and sprinkles, of course!)

I just finished watching one of my favorite movies, Halloweentown.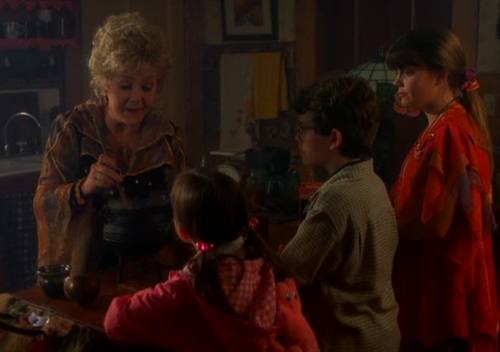 Halloweentown tells the story of Marnie, a thirteen-year-old who loves all things occult and doesn't understand why her mother refuses to let her or her two younger siblings, Dylan and Sophie, celebrate Halloween. However, every year on Halloween their grandmother, Aggie Cromwell, shows up on their doorstep and tries to get them into the Halloween spirit despite her daughter's stern protests. Marnie doesn't realize that her mother and grandmother's clash of ideas is because of a very important, very secret fact: Grandma Aggie is a witch from a magical place called Halloweentown, and can only cross over into the mortal realm on All Hallow's Eve. More shocking is the fact that Marnie herself is a witch, and Grandma Aggie has come to ask her daughter for help to save their home world from an evil force that threatens to destroy it.

The Halloweentown series follows Marnie and her family's continuing adventures as they try to balance mortal and witch life between the two dimensions. It includes four movies total: Halloweentown, Halloweentown II: Kalabar's Revenge, Halloweentown High, and Return to Halloweentown.

I love this series. I think one of my favorite things about it is Grandma Aggie. Who doesn't love Debbie Reynolds? And she is SO adorable in these movies, so full of fun and magic, but also very wise and powerful. And I love her Mary Poppins-like bottomless carpet bag! If you love the kooky and the spooky, you'll love these movies.

My dogs got a Halloween treat of their own this past week. When the box arrived I was confused; I thought they were for us humans! They looked so good, I almost took a bite.




My dogs were actually confused, too! When I handed one to my Lab mix, she sniffed it and looked at me as if saying "That's not for me. Did you mean to give me this?" Then she looked at me warily and carefully took the cookie in her mouth, slowly walked over to her bed, all the while staring at me like "Is it really ok? I'm gonna eat it, ok? Ok." *chomp chomp*

My Doberman kept dropping it, but once he tasted it, he's been begging for more ever since.

But my other Labrador just happily took it and gobbled it up immediately.

They're called Claudia's Canine Cuisine, and they are cookies made for dogs with ingredients we use in our baking, all 100% safe and healthy for dogs to eat. They smell fabulous! Our dogs are spoiled now and will probably never go back to dull ol' doggie biscuits.

<< Newer 1 2 3 4 5 Older >>
Buy My Books!
Connect